PRESS RELEASE
Download a PDF version of the Press release
Ecublens, june 21, 2019
The 2019 "LES AFRIQUES" Prize is awarded to the Nigerian writer Elnathan JOHN for his novel BORN ON A TUESDAY.
This Prize (which comes with a cash prize of 5400 €, an 3000 € value art work and the purchase of 100 copies of the winning book), was created by the association LA CENE Littéraire. It is awarded today to the nigerian writer Elnathan JOHN for his novel Born on a Tuesday, translated in french by Céline Schwaller as Né un mardi and published in that language in 2018 by les éditions Métailié.
The jury – chaired this year by Prof. Ambroise KOM (professor of literature and writer) – elected Elnathan JOHN's text, praising a powerful first novel, perfectly handled, that immerses us in contemporary Nigeria, paints a complex portrait of the West African giant in full mutation and in the grip of an unprecedented religious, social and economic crisis.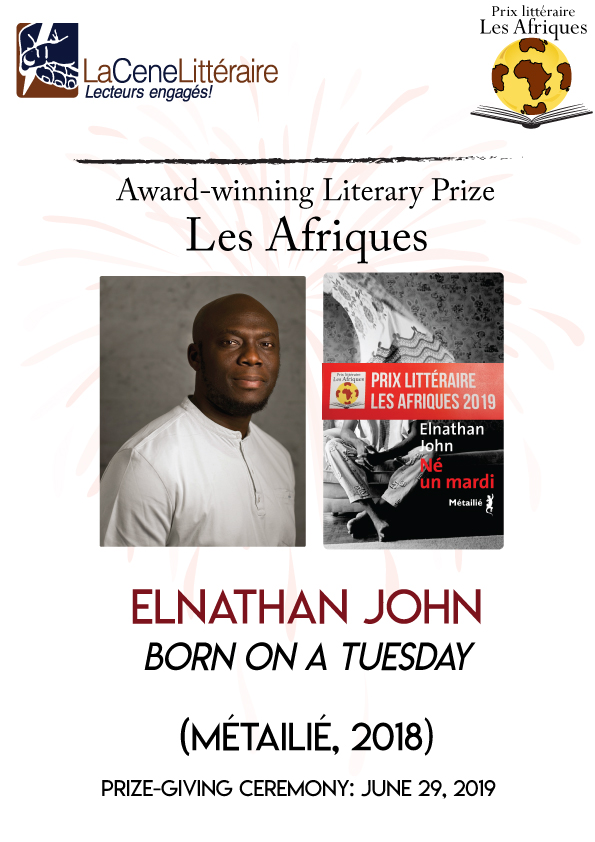 Elnathan John is a Nigerian lawyer, novelist and satirist. His short stories have been shortlisted twice for the Caine Prize for African Writing, in 2013 and 2015. His debut novel, Born on a Tuesday won a Betty Trask Award and was shortlisted for the Nigeria Prize for Literature. His most recent book — a satire collection Be(com)ing Nigerian, was published by Cassava Republic Press in 2019. On Ajayi Crowther Street, his graphic novel, will be published in November 2019. Elnathan was on the jury of the 2019 Man Booker International Prize. He currently lives in Berlin and is a 2019 recipient of the Berlin Senate grant for non-German literature.
The prize-giving ceremony will be held on June 29, 2019 in the lounges of the Société de Lecture in Geneva.
THE FIVE BOOKS ON THE SHORT LIST
The members of the jury praised the remarkable quality of the books shortlisted for the 2019 edition, namely: It is yours this beautiful country , Jennifer RICHARD (Editions Albin Michel); La danse de Pilar , Charline EFFAH, (Editions La Cheminante); I am alone, Mbarek OULD BEYROUK (Editions Elyzad); Season of Crimson Blossoms, Abubakar ADAM IBRAHIM; (Editions de l'Observatoire).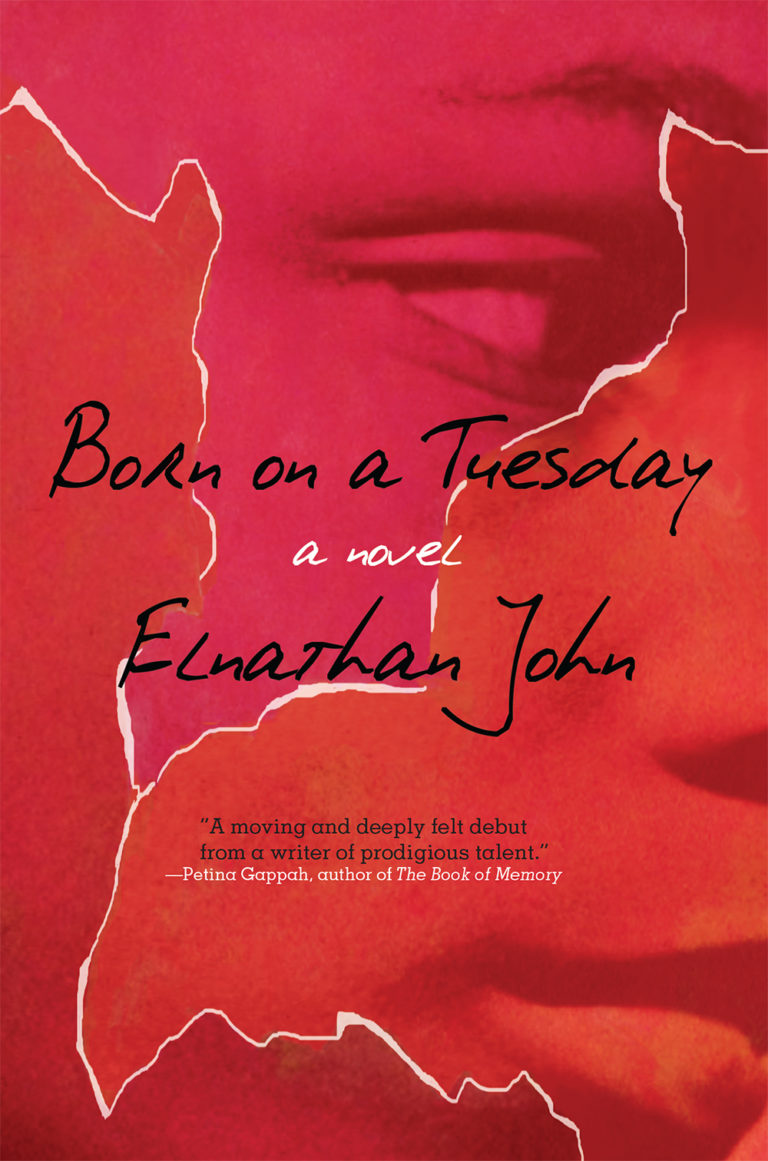 Born on a Tuesday
Dantala (the main character) in the street with Bayan Layi's thugs, smokes the wee-wee under the baobab tree, punches for the Small Party. Often, fights end up badly, as they say, all that happens is the will of Allah. One riot night, chased by the police, he must to flee.
Without a family, he finds refuge in Sokoto with a Salafist imam. He learns English with his friend Jibril, falls in love, sings the call to prayer, reads everything he can. The naive but curious kid discovers the extent of his contradictions and freedom of thought, and gains his place and name in a chaotic and violent world. As tensions between these communities continue to grow, an irritable imam secedes and goes into the countryside to establish an extremist sect.
This first critically acclaimed novel was published in Nigeria , in England and in the United States with the title Born on a tuesday, then translated in Germany with the title An einem Dienstag geboren and in France with the title Né un mardi.

THE PRIX LES AFRIQUES
The PRIX LES AFRIQUES was created by the association La CENE Littéraire. This Prize is awarded each year to an African or writer of African descent who has written a fiction highlighting a human, societal, ideological, political, cultural, economic or historical issue related to Africa or its diaspora.
The PRIX LES AFRIQUES also aims at giving a greater exposure to African authors and authors of African descent living in Africa or in the Diaspora (Americas, Europe, Caribbean, Asia, Pacific, etc.).
THE JURY OF THE PRIX LES AFRIQUES
The jury's members are :
– Théo ANANISSOH (writer, Togo)
– Boubacar Boris DIOP (writer & literature professor, Senegal)
– Ambroise KOM (writer & literature professor, Cameroun, President of the jury)
– Koulsy LAMKO (writer, Chad)
– Hortense SIME (Medical Doctor, passionate about literature, Cameroun)
PREVIOUS WINNERS OF THE PRIX LES AFRIQUES :
The first three laureates of the Prix Les Afriques are :
– 2016 Edition : Hemley Boum, Les Maquisards, La Cheminante, 2015
– 2017 Edition : Abdelaziz Baraka Sakin, Le Messie du Darfour, Zulma, 2016
– 2018 Edition : Kei Miller, By the rivers of Babylon, Zulma, 2017
LA CENE LITTÉRAIRE
La CENE littéraire is a non-profit association founded on 1 July 2015 by Flore Agnès NDA ZOA MEILTZ (Cameroonian and Swiss lawyer established in Switzerland) and registered in the Commercial Register of the Canton of Vaud under number CHE-256.373.796.
This association develops numerous initiatives to promote African and Afro-descendant literature, including:
> A literary prize: Le Prix LES AFRIQUES
> A literary residency in Cameroon
> Financial assistance for literary projects
> Literary cafés
> The active promotion of books through different communication networks
>> www.cene.lacenelitteraire.com
>> Facebook (20 502 abonné-es) : https://www.facebook.com/lacenelitteraire/
>> Instagram (385 abonné-es ) : https://www.instagram.com/lacenelitteraire/?hl=fr
>> Twitter (185 abonné-es) : https://twitter.com/lacenelitterair
>> Une chaîne YouTube : https://www.youtube.com/channel/lacenelitteraire